The Eiland Galerij
The Eiland Galerij on the Wadden island of Texel is a creation of the visual artist, Niek Welboren. Niek embarked on his initiative of giving the former neighbourhood school of Zuid-Eierland an artistic future, back in 1978. Now, his realised dream is the longest existing art exhibition space on Texel. With special care taken to conserve and restore the original features of the distinctive building, Niek has converted the 1912 structure into an art studio and exhibition space. Over the years an "Island for art" has arisen,
a unique life's work to say the least.
Since 1994, Niek Welboren's paintings have hung in harmony in the atmospheric building with the ceramic sculptures of his partner, Kerstin Edelmann. Kerstin's ceramics are also presented in an original way in the organically moulded garden.
With permanent and varying displays both inside and out, The Eiland Galerij provides
a surprising art island – on Texel!
NIEK WELBOREN

Niek Welboren's works on paper and canvas are inspired by the timeless elements that surround the island: water, sand, clouds, and wind. Coastal scenery close to home or rocky formations on far away islands provide a constant source of inspiration for his drawings and paintings.
Space and movement are central features to Niek's often abstract island impressions. Sketches and small open-air studies are translated into paintings in the studio, often
in generous formats. Niek prefers to work with oil paint, and sometimes in acrylic. Watercolour, pencil, chalk and ink are used for paper works. read more>
KERSTIN EDELMANN

Kerstin Edelmann's works, formed from clay, are built up by hand in an intuitive way. Her sculptures and objects originate from the visual language of the surrounding waters. The colours, forms and structures of the coastline can be found in many of
her creations.
A signature theme in Kerstin's work is the spiral, the ancient symbol of life and "Development".
Kerstin mainly fires her water beings, shell- and current-formations at stoneware temperature. These objects are suitable for outside installation; the occasional pottery
or raku firing is also done. read more>
EASTER ISLAND

A remarkable statue towers in front of the Eiland Galerij: "The Dreamer from Rapa Nui", carved on location from Tuff Stone by Bene Aukara Tuki Pate in 1993.
It is a symbol of the connection between Easter Island and Texel.
The mysterious island history is made visible inside with an illustrated story.
read more>
HISTORY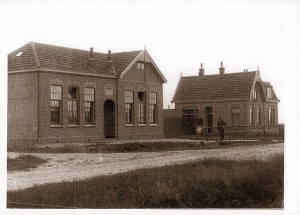 Besides the display of paintings, drawings and ceramics, the historical monument's past has also been put in the spotlight: there is an overview of "Earlier work", and in keeping with local tradition, an authentic collection honours the former school. Amidst benches, reading aids and wall charts, one can step back in time. Daydreaming is now permitted …read more>