Kerstin Edelmann
Kerstin Edelmann was born in Neustadt (Schleswig-Holstein, Germany) in 1965.
In 1972, the family moved from the Baltic Sea to Tettnang, near Lake Constance.
She grew up in the countryside, connected to nature. Already in her youth, Kerstin became familiar with clay as a malleable material. Her mother was a motivated and skilled amateur who encouraged her daughter to follow an artistic crafts training. Following high school, from 1984 to 1987, Kerstin attended the "Berufsfachschule
für Keramik" (Vocational College for Ceramics) in Landshut (Bayern).
Exploratory studio visits and internships with ceramists in England followed. After an artistic foundation training at the "Freie Kunstschule Ravensburg" (Ravensburg College of Art), from 1989 Kerstin followed a 4 year training at the "Fachhochschule für Kunsttherapie" (College of Art Therapy) in Nürtingen (Baden Württemberg). Kerstin chose for this additional training because the general expectation was that living from ceramics alone would be financially challenging. Parallel to this study, she remained engaged at the "Fachklasse für keramische Plastik" (specialised class in ceramic sculpture) at the Nürtingen College of Art.
As part of her studies, Kerstin followed several internships, including two in Scotland. In 1990, during an internship on the Scottish west coast, she met the painter, Niek Welboren, with whom she would later share her life. After a short work period as an art therapist in Bühlertal in the Black Forest, she decided to move to Texel. In the spring of 1994, she settled as a professional ceramist in Zuid-Eierland. Living on an island was a long-cherished dream, and she quickly felt at home on Texel and enchanted with her new country.
During her study years, Kerstin was fascinated by shells, particularly snail shells, which she modelled on a small scale. For her graduation project, Kerstin worked on the spiral and snail theme.
The visual language of her new wetland habitat harmonised fluidly with her inner feelings. The water element offers an inexhaustible source of inspiration.
The island provides new impulses and "play space" to further build on and deepen the already familiar theme..
The spiral is a familiar symbol both as ancient life form and as representation of organic development. In addition to shells and spiral forms, free objects are formed by intuitive means. Conscious attempts and sub-conscious impulses are given form. Some shapes grow organically, others literally arise.
With nature as a starting point, water beings, flowing currents, growth forms and human figures appear.
The myth of the goddess Aphrodite/Venus (of beauty and love), who is born of the sea foam and comes to shore in a seashell, inspires the modelling of standing female figures.
LONGING FOR THE SOURCE (OERVERLANGEN)
Spirit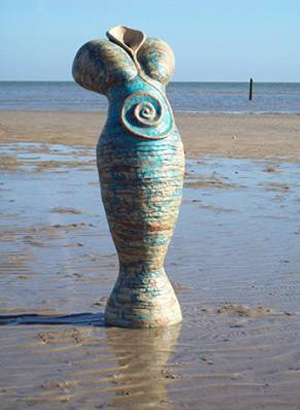 Sunken
In the seas
Oceanic infinity
Sea in all colours
Let myself flow
Like the mermaids
Close to the source
Dreaming
Weightless
Swaying
In mysterious depths
Experience
Everything flows
Perpetual pulsating
Of the waves
Ebb and flood
Quench the thirst
On the seabed
And reborn
Resurface
Like the sea foam
born
Venus
(Kerstin Edelmann)
Kerstin's female figures have evolved over time from Venus-Aphrodite to Sophia and Ariadne, with the labyrinth as the linking element.
As a cultural symbol, the labyrinth connects to the natural motion of the spiral. Kerstin is also inspired by archaic clay figures, which for her represent a timeless life force.
TECHNIQUE
The pieces are mainly formed by hand without the use of moulds. Kerstin mainly uses clay with rough grog (red, black and white kinds); her preference goes towards weathered surfaces. Structures are created by working with wood, stone and various finds.
Shaping and building is central to Kerstin's work; glaze is used selectively, to achieve worn surfaces and washed-out colour effects.
For the most part, Kerstin makes glazes according to her own recipes, sometimes using ready-made glazes as a base. Many of her objects are suitable for outdoor installation. Firings are mostly carried out in an electric kiln; after biscuit firing (950°C), a stone-
ware glaze firing is done at 1250°C. Kerstin also occasionally carries out firings
at earthenware and raku temperatures.
In addition to the permanent exhibition on the island, her work is occasionally shown in other galleries in the country. Kerstin Edelmann is a member of the NVK.
Kerstin gives courses and workshops and she develops art projects on request.
She is a trained occupational classroom artist (Bik- Opleiding).
For current workshops and courses, see NEWS.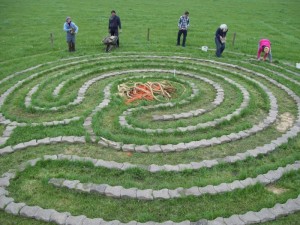 In the spring of 2014, together with the members of the care farm Novalishoeve on Texel, Kerstin built a seven-path labyrinth.
It is constructed with reclaimed stones and measures 13.4 m across.
The labyrinth is situated in the fields and is freely accessible to visitors.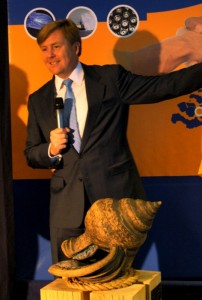 Kerstin also works on commission basis.
During the years that Kerstin has lived on Texel and worked as a professional ceramist, her talents have developed further. She has a distinguished approach to form and a unique own style. Kerstin considers her work to be a quest into the timeless ancient forms of people and nature, which she brings back to life in clay.